One Centralized Solution for All Your Needs
SoSimple's platform has built to directly address the needs of AEC marketing and business development teams. Our platform is like no other system on the market. We've taken the best aspects of popular CRMs, email marketing and text messaging platforms, large file sharing, applicant tracking, and subcontractor management systems and combined these assets into a best-in-class content management system. We help design and construction firms improve their marketing and sales while providing efficient solutions for many of the operational challenges that they face, all from one centralized system. This way, you spend less time stretching yourself across multiple programs, and more time gaining results.
Easy Website Management
SoSimple CMS is a simple to use, yet powerful Content Management System that allows you to manage virtually every aspect of your website without sacrificing great design. This system enables our clients to easily manage and scale their website without the on-going costs of a webmaster and with no coding skills required. SoSimple CMS has been built from the ground up, supporting clients who are looking for custom designs rather than "canned" templates or themes.
KEY FEATURES
Ease of Use
Complete Control
Manage SEO
Unlimited Pages & Scalability
User Permissions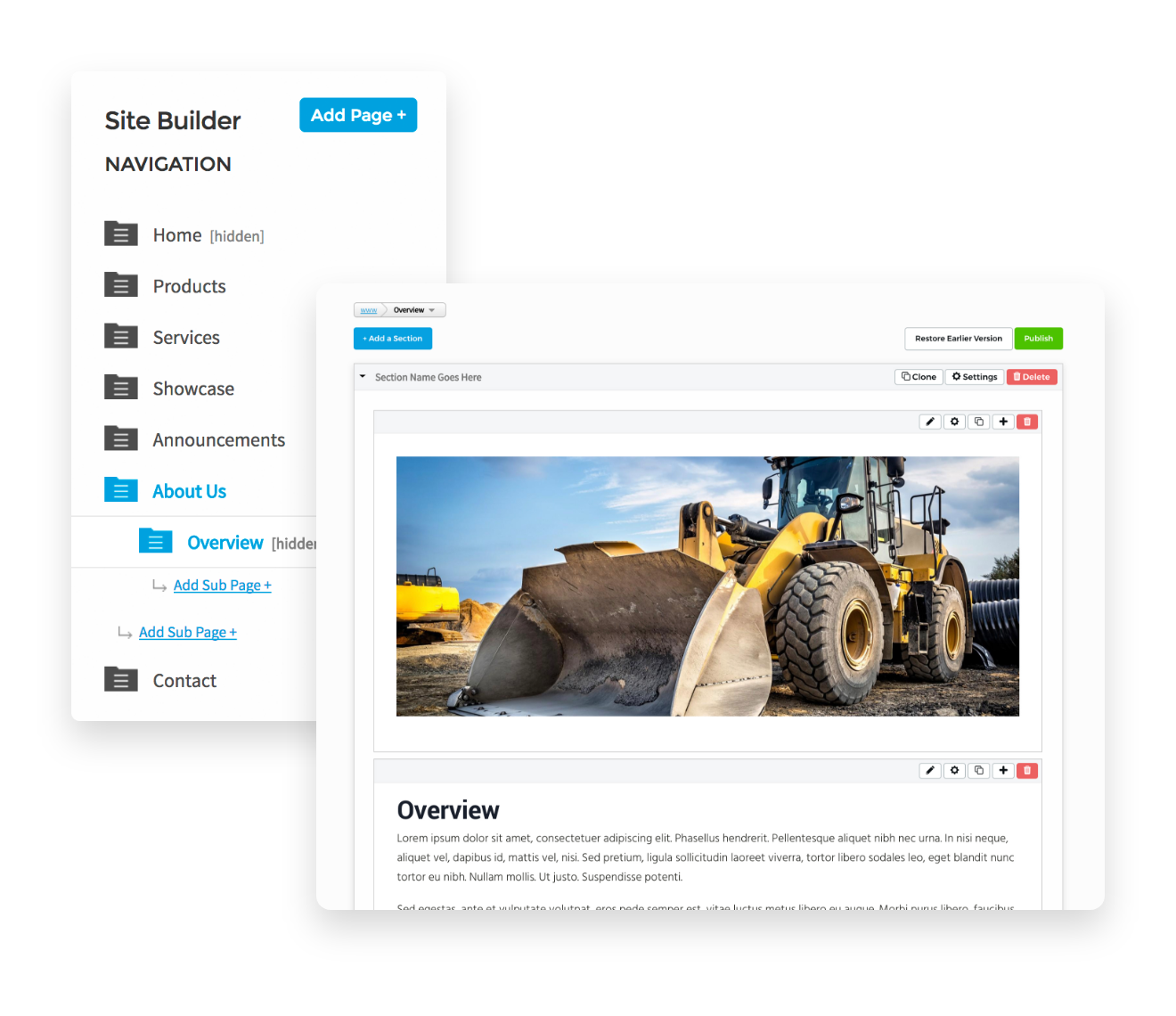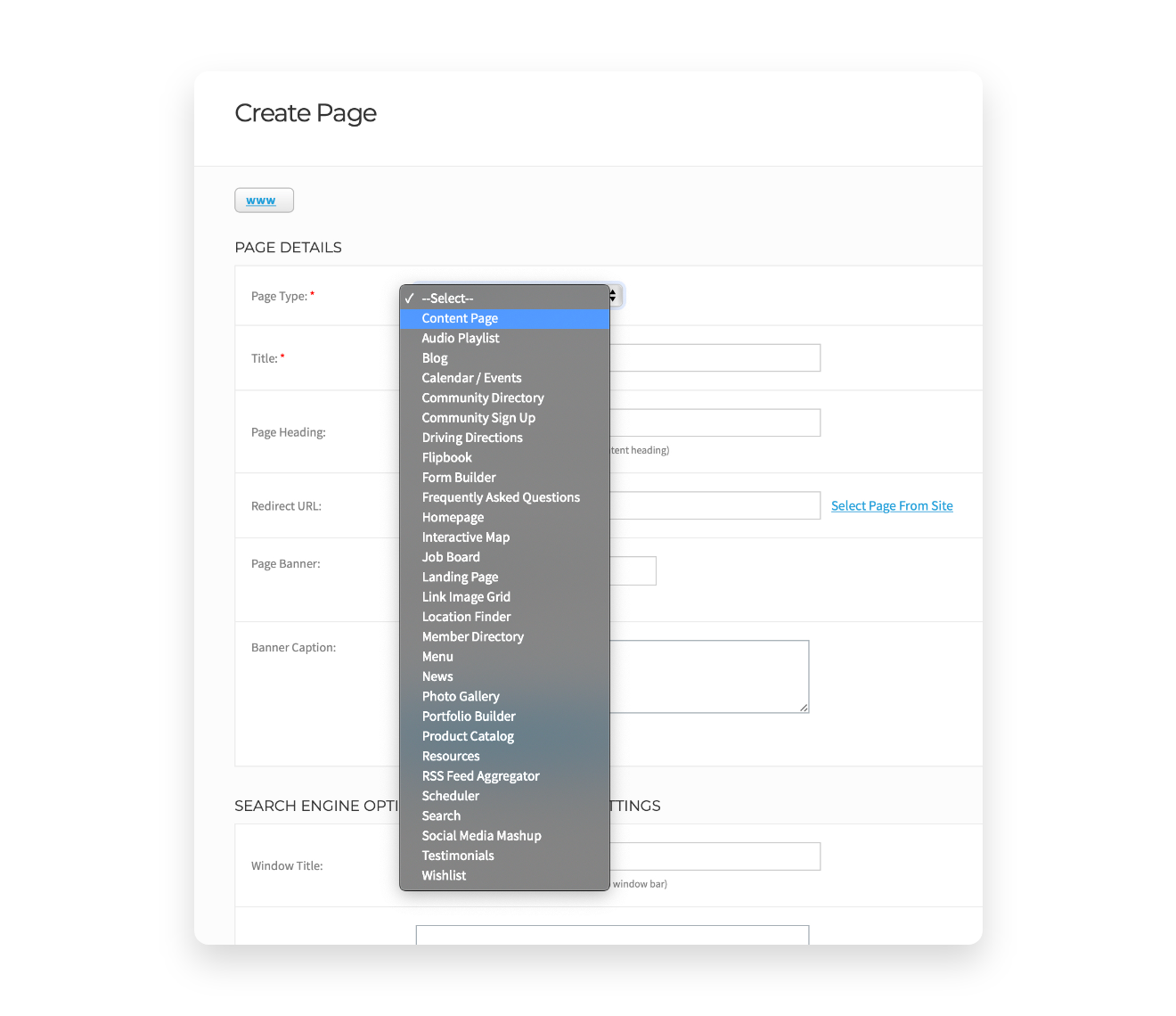 Unmatched Scalability
Expand your website at no extra cost to you. With SoSimple CMS, you can add advanced functionality to any page in just a few clicks. Simply create a page, select the page type, and the advanced functionality along with your unique design style will be added automatically. With a large variety of page types, the possibilities are endless!
FEATURED PAGE TYPES
Page Manager
Calendar/Events
Blog
Photo Gallery
News
Form Builder
Flip Book
Homepage Manager
Search
Member Directory
Location Finder
RSS Feed Aggregator
Scheduler
Link Image Grid
Driving Directions
Wishlist
Portfolio Builder
Landing Page
FAQs
Testimonials
Menu (Food)
Resources
Content Feeds
Audio Playlist
Social Media Mashup
CRM / Database
Your website can be more than marketing, put it to work for your organization. Easily add and manage a database of customers, vendors or other constituent groups. Our platform allows you to keep track of members within your database, as well as your database communications. Send bulk communications to all members, or individual communications based on custom filter groups. Reporting & analytics on all communications gives you insight on your campaigns, allowing you to make fact-based decisions.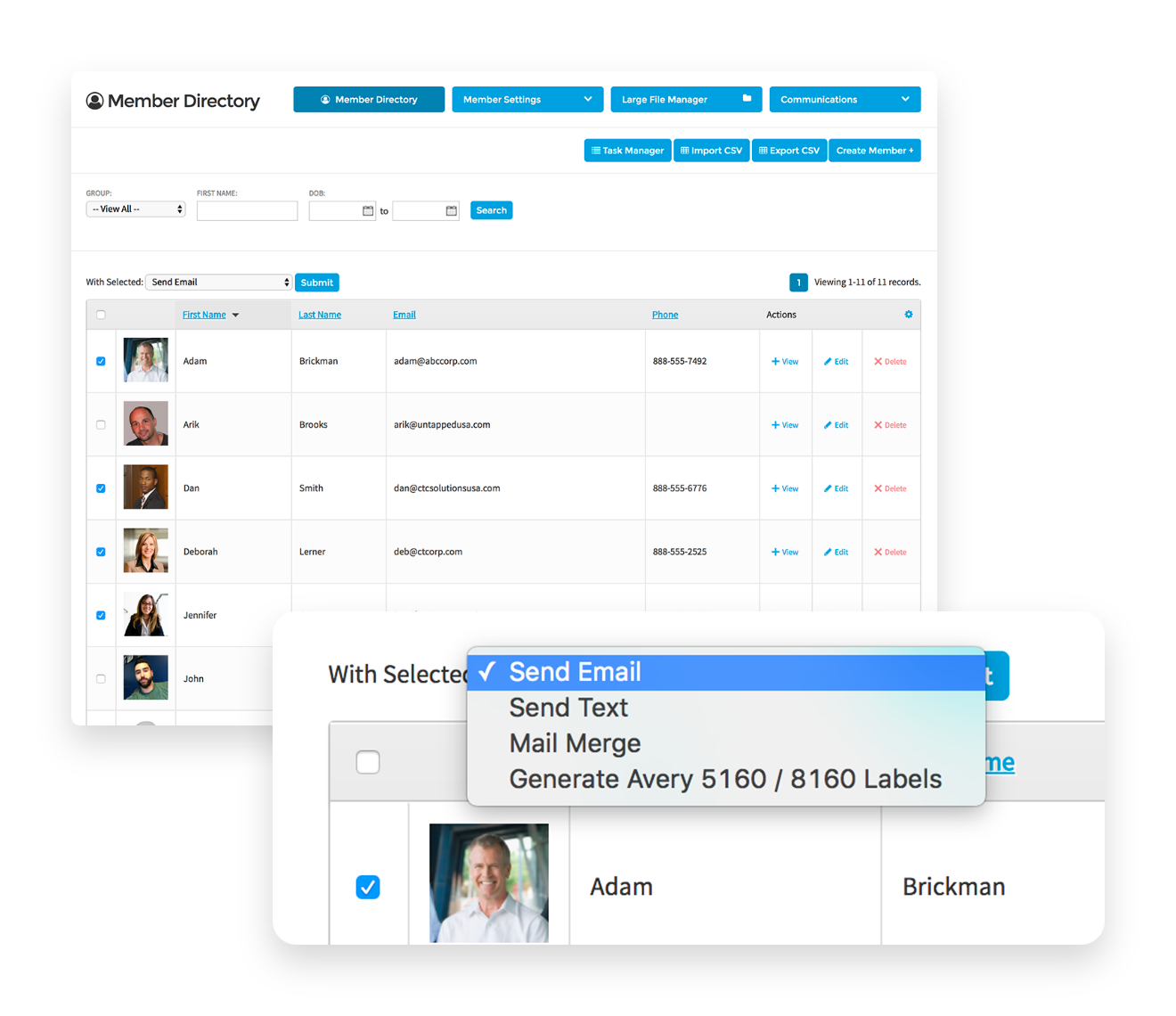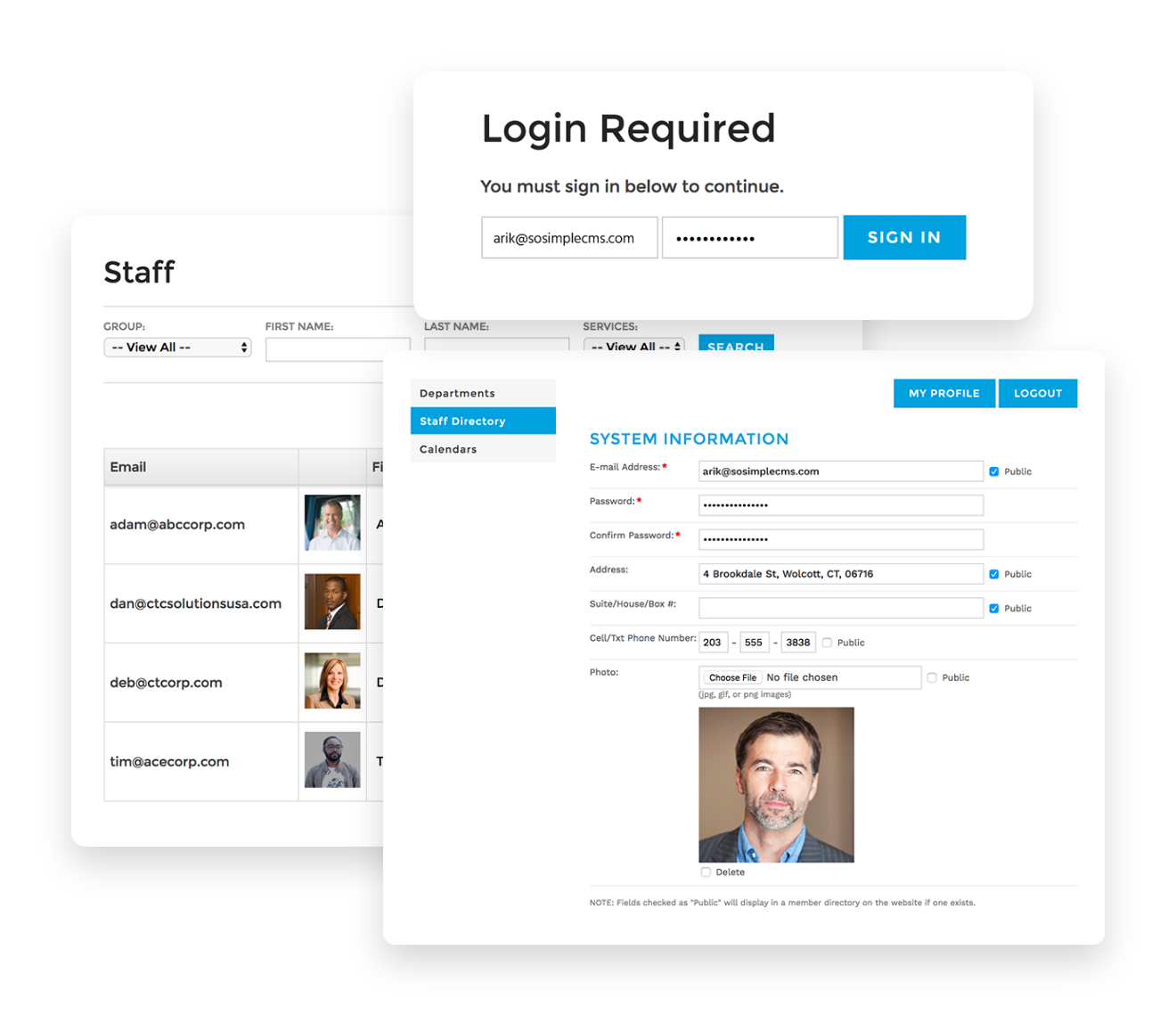 Intranet / Portals
Our platform allows you to create password-protected access to intranets and portals to feature member-specific content. Access to each page within these sections can be limited to any member that belongs to one or more permission groups. Once permissions are set, our variety of built-in page types allow you to easily customize and manage your intranet and portals.
Email/Text Messaging
Communication is important. SoSimple's Platform allows you to send customized campaigns as bulk emails and text messages to your entire database, or individualized messages based on custom filters and groups. Plus you can automate emails using preset dates or dynamic date-driven triggers to send messages on citeria that you set. With access to important reporting and analytics on all of your communications, you can make smarter decisions about your online communications.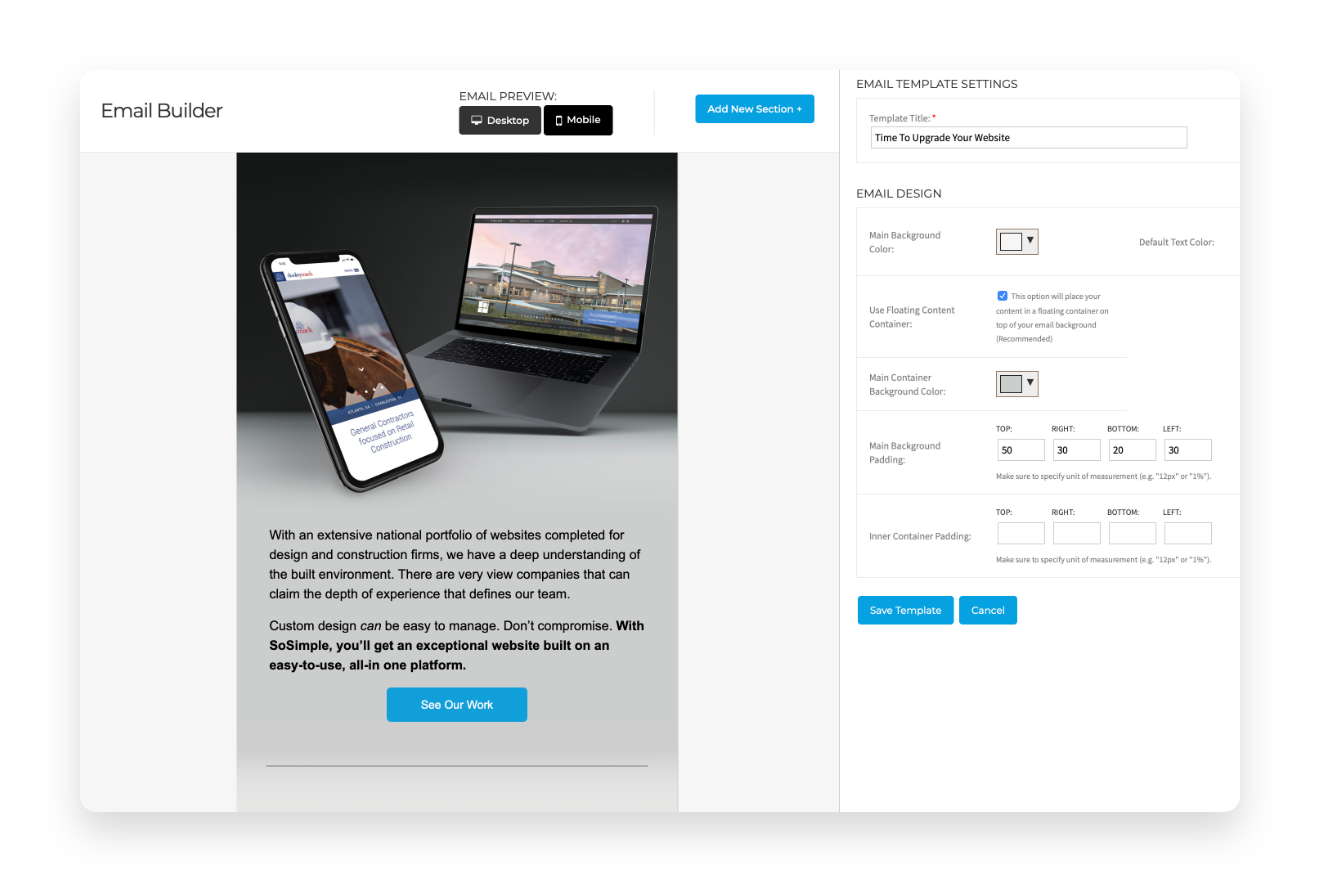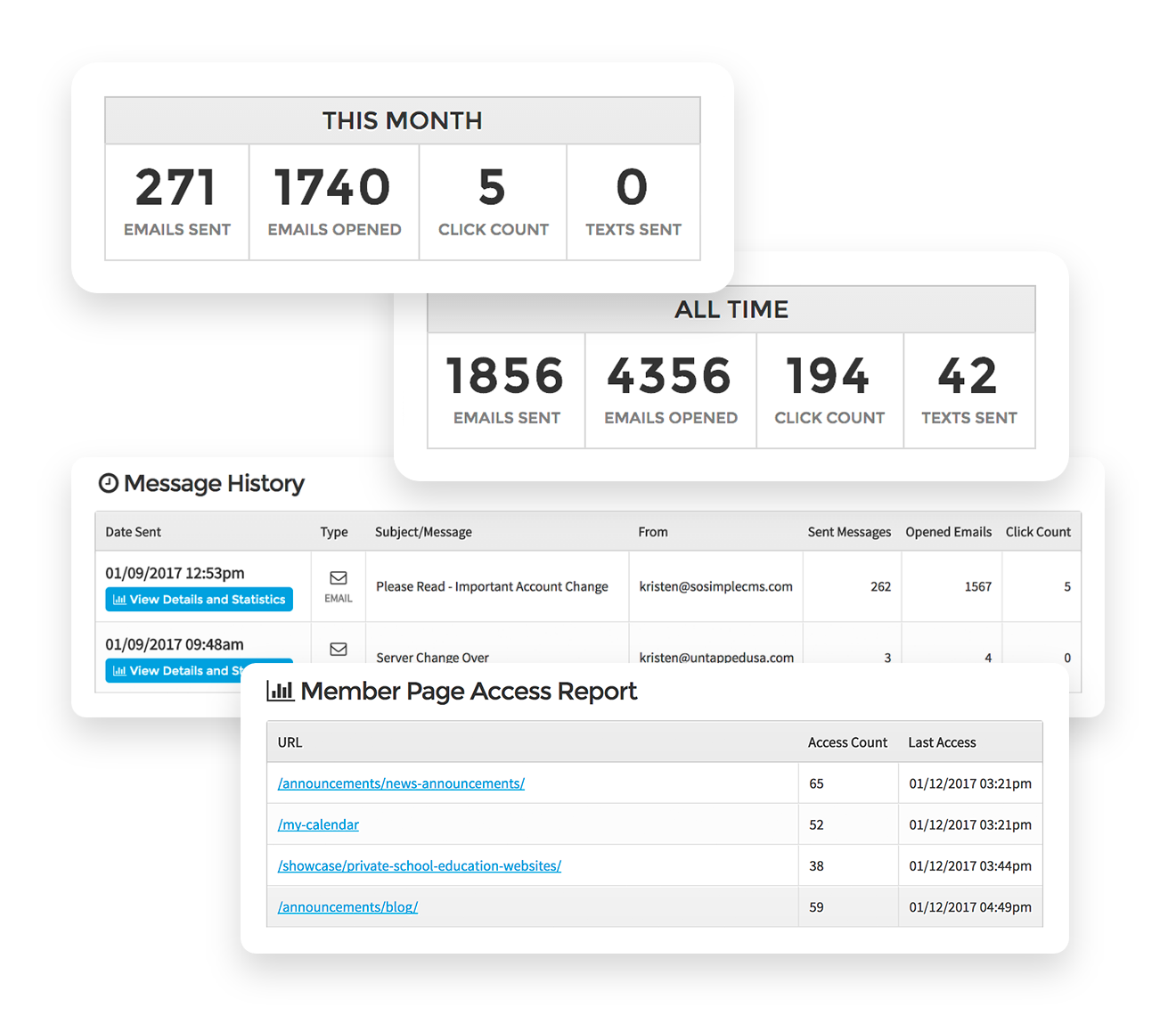 Reporting / Analytics
Data and campaign intelligence are key. Our built-in reporting capabilities provide insight on what is and isn't working in your campaigns, allowing you to make fact-based decisions. View entire member-specific web viewing histories and keep tabs on non member site usage. Our platform gives you complete control over your web-based communications.
Secure Large File Sharing
Convenience is a necessity. That's why we offer an optional two-way file sharing and storage system. This easy-to-use tool will allow you to upload, organize, share, and restrict access to large files with individual members or entire permission groups. Our communication platform makes it easy to notify members of new files by using our email or text notifications, or via an auto email that is sent to designated recipients any time a new file is uploaded.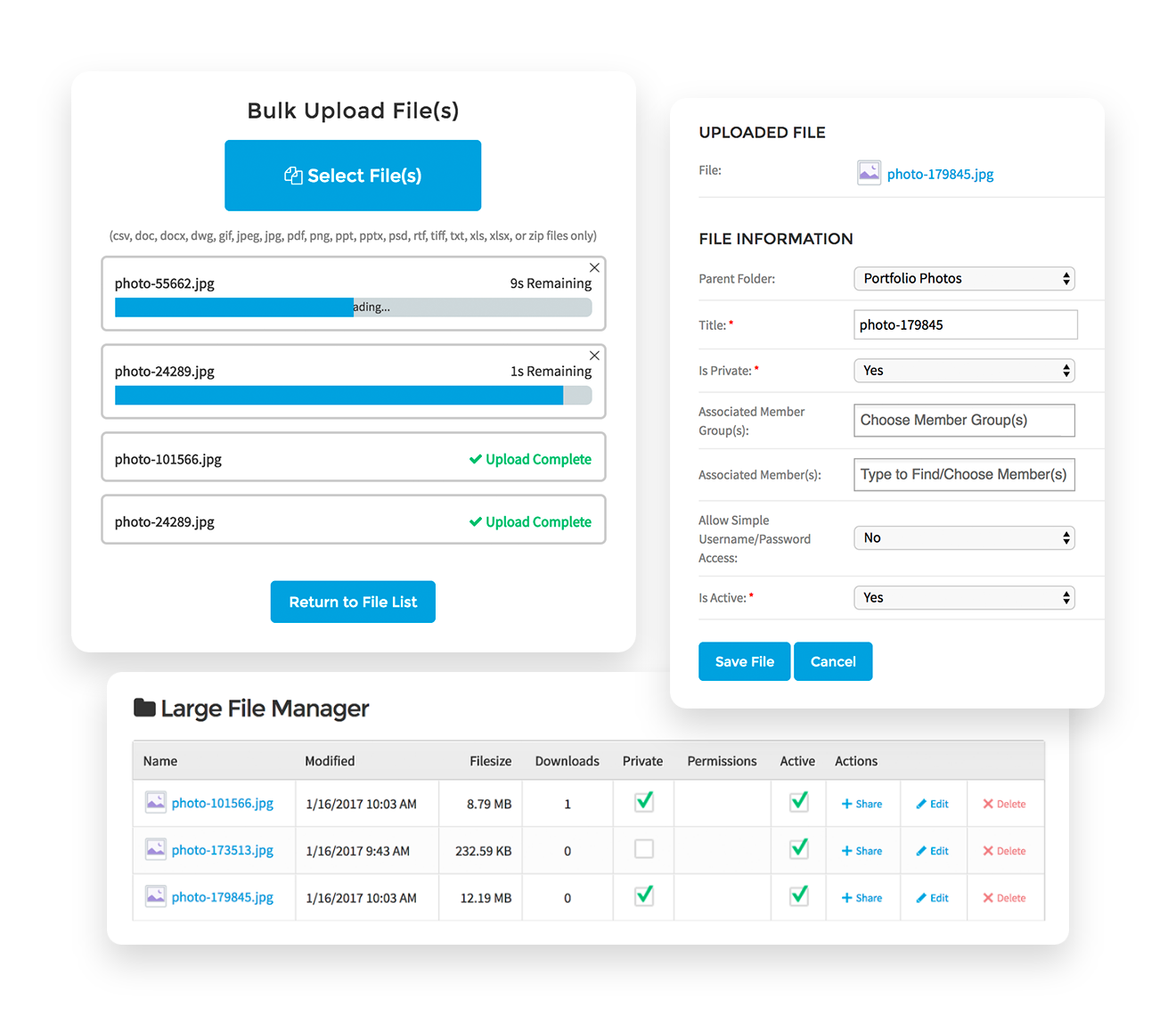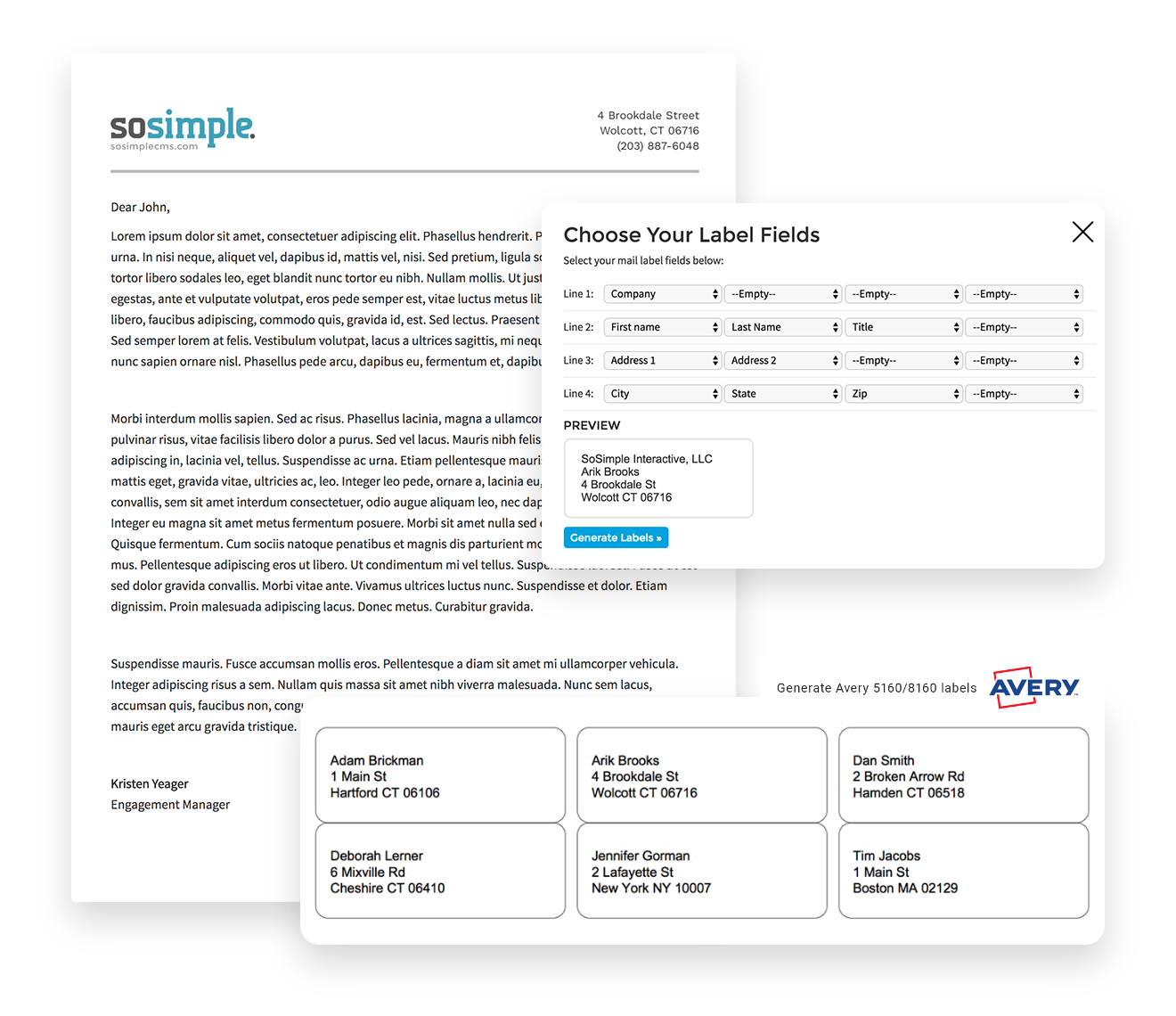 Mailings
Say goodbye to the trial and error of batch printing form letters and labels. Form letters can be created by choosing an existing template or by designing a new message on the fly. Our platform gives you the ability to go offline and print personalized letters or Avery labels, and use dynamic merge tags to personalize each letter or label.
Scheduling
SoSimple Scheduler is an innovative and intuitive registration and scheduling system, built directly into your website and easily managed from our platform. Schedule meetings, manage registrations and event sign-ups, schedule tours or conferences, export scheduled events and sync with your calendar of choice, all from one convenient source. In a couple of clicks, you can also add online payments to any Scheduler calendar for registration or other fees.